If you're experiencing hair loss, there's a chance that it could be stress related – but don't let that add to your worry. The good news is that it can be managed by lowering stress levels and nourishing hair at the root.  
Keep reading as we explore the relationship between stress and hair loss and offer some tips and tricks to help you achieve a healthy scalp and mind.  
Does Stress Cause Hair Loss?
Bear with us, things are about to get a little technical: Healthy hair grows around half an inch per month. However, when experiencing intense stress, the body's cortisol levels spike. Excess cortisol (the body's stress hormone) can cause inflammation and impede blood flow to the hair follicles, causing them to enter a resting phase.  
When hair follicles are resting, there is no new growth to replace natural shedding. This causes hair to look thinner and can result in bald spots.  
Also, many of us have been worried about pandemic over the last year, causing major stress on our bodies, leading to a new term called 'Covid Hair Loss'.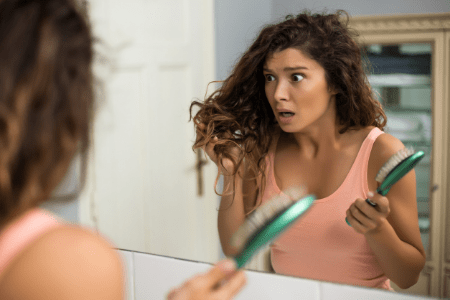 To break the cycle of intense stress and hair loss, focus on promoting growth and lowering stress levels. There are plenty of things you can do to manage stress and tackle hair loss at home. 
How to Manage Stress-Related Hair Loss
Reducing your stress levels can be achieved with a few simple lifestyle changes. Yoga, meditation, therapy, and exercise have all been linked to successful stress management. You can also lessen hair loss due to stress by making time to relax regularly.  
Something as simple as taking an extra five minutes to massage our Grow More Elixir into the scalp every evening can help to relax the mind and nurture the skin, working to both relieve stress and create the optimal environment for healthy hair growth.